For Android 12, Google is working to improve again "Split-screen" feature for "app pairs". Split-screen can be used on Android 11 where you can open two applications on your device at the same time. Currently, when a user wants to use the split screen, they have to open an app, activate the feature through a recent view, and then choose another app.
Android 12 to get "add app" feature to use two apps at once
These days we are getting large display phones like foldable, dual-screen phones, so the split-screen feature is not much needed. To help users, some companies like Samsung, LG and Microsoft have their own split-screen capabilities.
According to the latest reports, Google is replacing this split screen system with a new feature "App Pair" Android 12. In Android 12, the app pair system will group two apps together. This means that you can choose any of the two recently opened apps to pair. Once the application is added, you can easily swap to use it in a separate single app and swap it back to pair.
9to5Google has shown the difference between the two features, that is, Android's current split screen and added new apps to Android 12. Look at the picture below, the feature may look like this.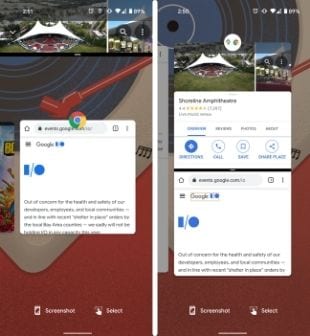 The app pair in Android 12 will give you a divider to adjust the screen space for each app. This divider lets you quickly swap the positions of two apps by double-tapping on the divider.
Some of Samsung's phones have the same name, App Pair. There are app pair shortcuts on Galaxy phones to open two apps in multi-window mode.
The first Android 12 developer preview is expected in February. As has happened for Android 11 last year, so the preview will arrive in time. Android 12 is still under development.